Over the last few years, better data connections and the integration of GPS chips has meant that location-based services have become very popular on mobile phones. By location-based services, I mean programs or applications that rely on data about where you are to give you information about places/services/routes etc. Probably the best example would be something like
Google maps
.
Google Maps is available on most phones, but there are also other map applications available on different smartphone platforms, such as
Ovi Maps
for Symbian/Nokia phones. These apps can be used as GPS tools when out driving or walking - and both Ovi and Google now essentially offer free GPS navigation - or they can be used to find places to visit or go to nearby. So, for example, you might be out in an unfamiliar city or town and want to find a restaurant or petrol station nearby. You can bring up Google maps, let it locate where you are and then use the 'search nearby' feature to locate what you want. I've used this feature on numerous occasions to find shops or services since my primitive male ego forbids me from actually asking anyone..
Directory and review apps
Another type of location-based service available on both computers and mobile phones are directory/review sites such as
Qype,
Places Directory
, and
Yelp
. These will often have both a desktop site and a mobile phone app that can sync with each other. These are sites that provide listings and reviews of places to see and go out to in your vicinity. You can also add your own reviews to places you've visited to contribute to help people get a better idea of a place. My particular favourite is the Places Directory (picture below) app on Android phones, a Google program that links in with Google Maps and pulls in reviews from a variety of websites. There are also sites/apps that focus on specific services, a good example of this is
Urbanspoon
, which helps you read reviews and find info about restaurants in your area.
Location-based microblogging and 'game' apps
A more recent addition are apps/sites that combine elements of both simple maps programs and review/directory ones but then add a competitive element in the form of 'prizes' for visiting the most places or for visiting the same place numerous times. Good examples of this are
Foursquare
,
Rummble
and
Gowalla
. These are very much designed with phones in mind. Basically, you go to places (e.g. a restaurant/bar/museum) and then use the app on your phone to 'check in' (press a button on your phone to say you have arrived at a place). This information can then be sent to other people you are linked to on the program, such as your friends or to those people following your Twitter account, and they then know where you are. For this reason they are sometimes known as location-based microblogging apps (Twitter being a form of microblogging). You also receive virtual points or awards for visiting places, such as becoming the mayor or hero of a particular venue (meaning you've visited there the most). This can actually lead to real life discounts in some places! You can also add reviews or handy hints about the places you visit.
I've only really played around with these apps, they are certainly designed more for teens/young adults who go out quite a bit. For a middle-aged man with wife and young child, trying to compete for prizes by going to lots of bars is more likely to lead to heart failure and/or a broken marriage than a sense of achievement. But they are fun and the competitive element adds an extra element that's going to appeal to a lot of people.
How they can be used in (and out) of the ESL classroom
There is tremendous potential for using these apps with ESL students, both inside the classroom in structured lessons and as a tool for self-learning outside the classroom. Below I give some general ideas about how they might be used. Most of these I haven't had the the chance to try out yet, so they are simply suggestions rather than firm lesson plans. I will also indicate how they can be used in traditional classroom settings as well as in e-learning or m-learning situations.
The most obvious use for these is to add some authenticity and context to the classic directions lesson ('how do I get to...'. 'Take the second turning on the left'). One thing you can do if students don't have access to phones/computers in the class is to print out a Google Map of the students' local area. One of the students can then guide the other from a starting point to a predetermined location on the map. Even better if students have access to a mobile phone or computer with internet access, students can direct each other using Street View (see picture below) on Google Maps. This is a version of the maps program that shows actual photo footage of where you are going, as if you were behind the wheel of the car. This can add a whole new level of authenticity to students giving directions to each other.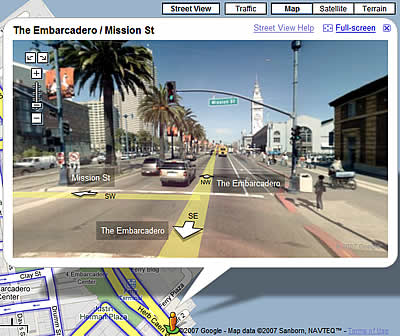 Review sites like Qype, Yelp and Places Directory lend themselves well to authentic and meaningful writing activities. One thing that students could do is write reviews of places in their town for foreign visitors and then post them on these sites. The fact that these are really going to be published should be motivation enough for the students. Since these sites often request pictures as well, students can visit these places with their mobile phones, take pictures and then write the review. Hey, it might even be possible to take them on a field trip so they can do it during class time.
Students could also write more developed tourist guides and use a combination of photographs and web pages to create a guide for their town/village/area. Students could work in groups and collect data on their phones (pictures etc) and computers (text/maps) and then add them to a page on sites such as
Wallwisher
or
Glogster
.
If you want to do speaking with your students, these applications can be great for setting discussion or problem-solving tasks. Students can be asked to plan a day or week out in a particular place with a certain budget. They have to work in groups to find out what they can do in that area, what attractions and restaurants there are, how much they cost, how close they are to each other. They then have to work out an agreed itinerary for their trip and then present it to the rest of the class. This could be the sort of lesson that could combine aspects of mobile learning (e.g. they find the reviews on their phones), elearning (they look at the maps on computers) and traditional learning (they do their presentations in class)
You can easily combine some of these apps to create great lessons that integrate a lot of different skills. For example they could develop their reading skills by looking through reviews and finding restaurants/cafes etc with similar features. They could also develop their vocabulary by looking at some of the frequent adjectives that occur in these texts (expensive, crowded, lively etc). Students could give spoken reviews of places they've visited and others could listen and write down the good and bad points they mention. I've actually tried this with my students and it worked very well.
A lot of these apps are intrinsically enjoyable and fun, and encouraging students to just use them generally outside of the classroom can be of enormous benefit to their general English development. Anyone who has every played around with Google Maps or Google Earth or similar probably know how absorbing and fun it can be to travel the world from your chair! And apps like Foursquare and Gowalla are intrinsically fun for people to play with, especially teens and young adults. Tell them about them, give them ideas how they can use this technology to engage with English in a way that is motivating for them.
Nicky Hockley's blog post
suggesting ways to introduce your students to mobile learning is a great place to start.